Jiangling Motors Corp., Ltd, as one of the largest commercial vehicle enterprises in China, has been selected into China top 100 listed companies for four consecutive years. Jiangling Motors initially introduced international advanced technology to manufacture light truck in the mid 1980s and became a main light truck manufacturer in China.
The main business of Jiangling Motors is the production and sales of light truck and related parts. The company mainly produces JMC-series light trucks and pickups as well as Ford Transit-series commercial vehicles. Besides, it also manufactures motor engine, castings and other parts.
In 2007, Jiangling Motors achieved record sales of 95,059 complete vehicles, including 38,752 JMC-series light trucks, 921 Yunba microbuses, 23,982 pickups, 4,819 Baowei SUV and 26,585 Ford Transit-series commercial vehicles. The total sales increased by 12% over the year of 2006.
The company's total output of complete vehicles in 2007 was 96,147 units, of which 40,015 units were light truck, 871 units Yunba microbuses, 23,822 units pickups, 4,871 units Baowei SUV and 26,568 units Ford Transit-series commercial vehicles.
Complete Vehicle Output of Jiangling Motors, 2007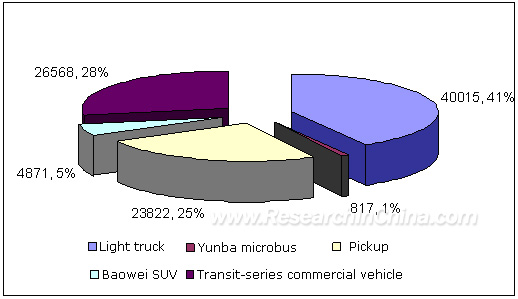 Source: ResearchInChina