On Jan. 18th of 2008, Ministry of Agriculture of the People's Republic of China and Ministry of Health of China jointly issued the document to intensify the efforts to carry out the inoculation of rabies vaccine and rabies immunization. Chinese people died of canine madness occupy 30% of the total died of infectious diseases in the past three years. Inoculation of the rabies vaccine is the most effective way to prevent the canine madness. However, the previous problem is that the immunization coverage rate only covers 10%. Therefore, the rabies vaccine has become the fifth compulsory variety of immunity after the foot-and-mouth disease, bird flu, blue ear disease and hog cholera. As for the utility of the rabies vaccine, attenuated vaccine has been banned to use because of its inherent deficiency. In the future the inactivated vaccine may be used, however the market capacity and the manufacturers' benefit will be determined by the launch of the detailed rules concerning vaccine varieties, vaccine prices and quantity used.
Market Capacity of Animal Vaccine, 2008
(Unit: RMB Yuan)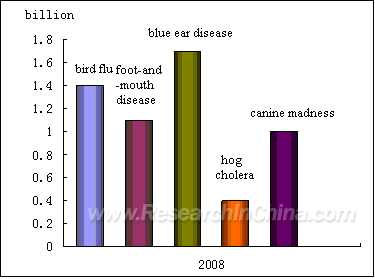 Thanks to the exogenous growth supported by the policy, Chinese animal vaccine market has been growing rapidly. Regarding the imperative vaccine market in China, the sales of only the foot-and-mouth disease vaccine and the bird flu vaccine reached RMB2 billion in 2006. The newly-added sales of the blue ear disease vaccine and the hog cholera vaccine reached nearly RMB700 million in 2007. The sales of the blue ear disease vaccine and the hog cholera vaccine are expected to reach RMB2.1 billion and RMB2.2 billion in 2008. Then the rabies vaccine and the Newcastle disease vaccine will follow in the future.
It is forecasted that the compound growth of China's animal vaccine industry will be 39% in the period of 2006 to 2009. Furthermore, the market concentration rate is on an upward trend, meaning the growth rate of the key producers will be faster than the average industry level.