China's urea export is closely related to the price differentials between China's and international markets. China's urea prices, boosted by price hikes in international market, have kept rising. In Dec., 2007, the average export price reached US$287 per ton. Urea export is stimulated by such factors as cost differentials between China's and international markets and international demand for urea.
China's urea output, export and price are expected to hit new record highs in 2008, and China's urea supply will be moderate tight in the whole year according to forecast.

China Urea Price Trend from Jan., 2007 to Jan., 2008
(unit: CNY/ton)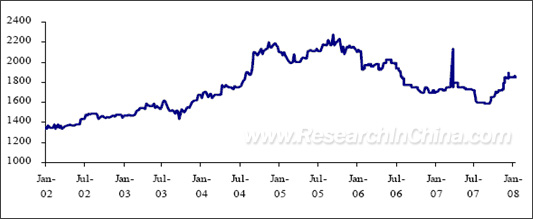 Source: Haitong Securities Research
Sichuan Meifeng Chemical Industry Co., Ltd, or Sichuan Meifeng, a nitrogenous fertilizer producer, is a listed company with excellent performance. The company was listed in Shenzhen Securities Exchange in 1997. In July, 2002, Chengdu Huachuan Petroleum & Natural Gas Exploration and Development Co., a wholly-owned subsidiary of China Petrochemical Corporation, became the biggest stake holder of Sichuan Meifeng through corporate restructuring, making Sichuan Meifeng a listed company of nitrogenous fertilizer with natural gas resources.
Sichuan Meifeng Main Operation Revenue by Business, 2007
(unit: CNY10, 000)