Daqin Railway Co., Ltd is mainly involved in the transportation of power coal, and provides transport services for five big power generation companies and over 380 power plants around China. The majority of coal resources transported on Datong-qinghuangdao Railway Line are to be carried through Qinhuangdao Port to China's southeast coastal areas; some are to be exported to Japan, South Korea and Taiwan; and the remaining to Tianjin, Hebei and Liaoning province. Coals transported on Fengshada Line will be carried to Beijing, Tianjin and Hebei province, while North Tong-Pu Line is the main Loading line of Daqin line and Fengshada Line.
In 2006, coals from Datong of Shanxi province reached 62 million tons; 104.6 million tons from the surrounding areas of North Tong-pu line; 65 million tons from the West of Inner Mongolia; and 18.5 million tons from the North of Shaanxi Province.
In Q1 2007, Datong-qinhuangdao railway line completed transport volume 73.085 million tons, seeing a share of 24.4% in the whole-year goal. On average, twenty 20,000-ton trains, 20.3 10,000-ton trains and 18.4 3,000-5000 ton trains run on the Datong-qinhuangdao railway line per day. Its average daily transport volume arrives at 815,900 tons.
Upstream Coal Loading of Daqin Railway Co., Ltd., 2006 & 2007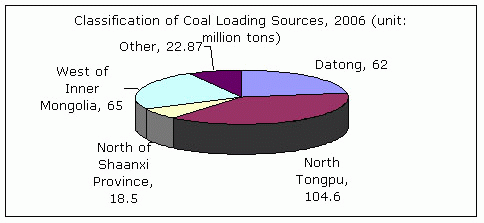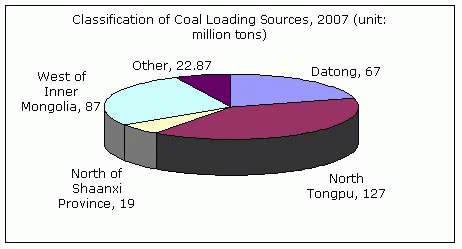 Composition of Railway Lines for Transportation of Coal from the West to the East