Each family in cities and towns of China owns three or four kinds of small household appliances on the average, which is far less than the 37 kinds in Occident countries. The lifecycle of small household appliance is usually three to six years only; at least 2.6 million Chinese families who move into new houses every year, the growing demand rate for small house appliances may be expected to break through 30% annually over the next 2-3 years.
Output of major small household appliances, Jan 2005- Oct 2005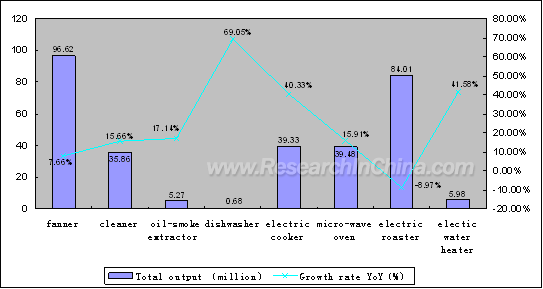 China small household appliance output has been maintaining a rapid growth since 2005. During Jan-Oct 2005, the production of dishwasher accumulated to 0.68 million unites, increased by 69.05% compare to the same period of 2004; the production of water heater and electric rice cooker was accumulated to 5.98 million and 39.33 million respectively, up 41.58% and 40.33% compare to the same period of 2004. The production of oil-smoke extractor also rose dramatically.
This report probes into the market scale and prospect, demand and supply, production and sales of China small household appliance industry on the basis of data from National Bureau of Statistics of China, National Economy and Trade Committee, China Light Industry Center, China Commercial Information Center and China Household Appliance Association. It highlights the development trends, market capacity and the growth of each segmented market, so as to offer valuable references to investors when plotting relevant strategies.