China coal tar consumption will be on the upward trend with the recycling of coking products and rapid development of finishing processing sector. Meanwhile, as foreign coking plants have been closed down, suspended, merged or switched to other lines of production, making coal tar production increasingly fall, so the international market is in a situation of tight resources. Moreover, a group of domestic industries, including ceramics, glass and steam heating have purchased a great deal of coal tar to substitute heavy oil as fuel, so China will continue to have a short supply of coal tar. Therefore, it is forecast that China's market demand for coal tar will remain good in 2009, and China's coal tar prices will fluctuate in tandem with ups and downs of international crude oil prices and downstream product prices in the year.
In 2007, China's total recovery of coal tar was supposed to be 12.3 million tons, but actually 8.4 million tons were recycled and 3.9 million tons were unrecovered.
China Coal Tar Output, 2004-2008 (unit: 10,000 tons)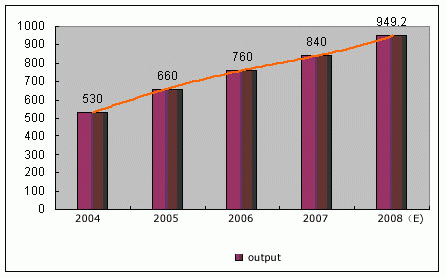 Source: ResearchInChina
China is still continuously expanding its coal tar processing capacity, because of short supply in domestic market. So it is expected that China's coal tar processing industry will see a severe competition in the next few years. Though the industry is boosted by strong market demand, the overall profitability of the companies is bound to be reduced due to intense competition.
China coal tar processing industry is facing an industrial upgrading and the development trend is to make the industry more centralized, enlarge its production scale and make its processing finer. Most medium- and small-sized coal tar processing companies will be eliminated during the industry upgrading. According to the national industry policy, a single unit must have an annual coal tar processing capacity of above 100,000 tons, meaning a raw materials supplier should have an annual coke processing capacity of above 2 million tons. Therefore, it is the most consistent with the development trend of China coal tar industry that coal tar producers should build their plants nearby a coke production base or some powerful coke producers can develop to the direction of deep processing of coal tar.
The report is based on the authoritative statistics and information from the National Bureau of Statistics, the General Administration of Customs, the Ministry of Commerce and the China Economic Information Network, and substantial information from publications at home and abroad and research institutions, regarding China coal tar industry. Thus report makes an in-depth study on the output and prices of China's coal tar industry as well as the development trend of its downstream industries, including naphthalin, carbon black and bitumen.