China with rich coal resources ranks the first in the world in terms of coal reserves. In 2007, China's coal output and sales grew about 9% to 10%, and the profit growth rate of China's coal companies hit around 35% against the previous year. The industry prosperity was further enhanced.
In recent years, China's fixed asset investment in coal industry has increased rapidly. During the period of 2001 to 2005, the investment grew at a rate of above 40%. In the next few years, China's investment in coal industry will reduce, because of regulation and control of national policy. With fast expansion in production capacity stimulated by a great deal of investment, China has an annual increase in coal production capacity by over 400 million tons
In 2007 and 2008 respectively, making its production capacity reach 2.93 million tons in 2008.

Thanks to coal price surges in 2008, China's coal industry has also made big gains. Generally speaking, China has a relatively tight supply of coal, so coal prices have made record highs repeatedly. Furnace coal prices rise faster than those of steam coal and anthracite. By the end of May 2008, the price of Qinhuangdao gifted mixed steam coal has jumped more than 60% against the same period last year. The prices of coking coal have even more than doubled in some areas, including Taiyuan, capital of Shanxi Province, and Tangshan, a city in Hebei province. According to the statistics from Jan. to Feb., 2008, the main business revenue and profit of China coal industry saw a fast increase, rising 40.8% and 66.8% respectively. China's coal industry is bound to have big gains in 2008. Good performance of coal industry in the first half year of 2008 shows that demand in downstream industries is still robust and transportation bottleneck continues to restrict the effective expansion of production capacity.
Mergers and acquisitions among coal producers and integration of assets in coal industry will be the bright spot in investment in the future. The report makes a comprehensive analysis of all investment projects financed by 27 listed companies from 2000 to 2008, and makes a summary of investment trend of China coal industry and investment features and investment trend of the listed companies.
We have a collection of more than 35,000 pieces of information, released by 1,500 Chinese listed companied, on investment projects financed by fund raising and non fund raising since 2000. After the information is processed by software and studied by analysts, the investment direction report concerning various industries is completed, which is classified by time, region (province, autonomous region and municipality), by purpose and by sector.

Annual Investment of China Listed Coal Companies, 2000-2008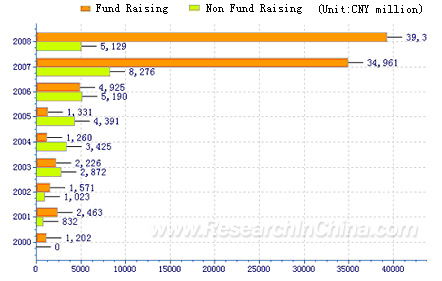 Source: ResearchInChina
Investment Distribution of China Listed Coal Companies (by Region), 2000-2008H1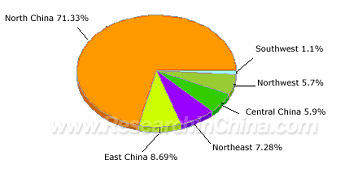 Source: ResearchInChina
Top 10 Companies in Terms of Investment, 2000-1H2008

Source: ResearchInChina
This report analyzes all investment projects financed by 27 coal listed companies, for example, Henan Shenhuo Group Co., Ltd.
Investment Features of Henan Shenhuo Group Co., Ltd
The company's main business is the production, process and sales of coal and aluminum products. Diversification direction: it is also engaged in the operation of special lines of railway and import & export business regarding their own products as well as related technology.

The company's investment surged in 2005 and 2006, but began slowing down in 2007.

In Sep. 2007, the company controlled Shenhua Aluminum Industry Co., Ltd. through capital increase. Through the integration of aluminum and power industry, the company has achieved its development strategy integrating coal, power and aluminum business. Its coal business will be in a period of rapid expansion of production capacity in 2008-2010, and meanwhile, skyrocketing oil prices will also push up prices of coal. Its electrolytic aluminum business with secured supply of coal and power will have increase in revenue, following the decline in aluminum prices. The two main engines of coal and electrolytic aluminum have laid a solid foundation for its rapid development.

Before 2004, the company's investment was mainly financed by fund raising, but after 2004, its investment projects were financed chiefly by non fund raising.

Annual Investment of Henan Shenhuo Group Co., Ltd., 2000-2008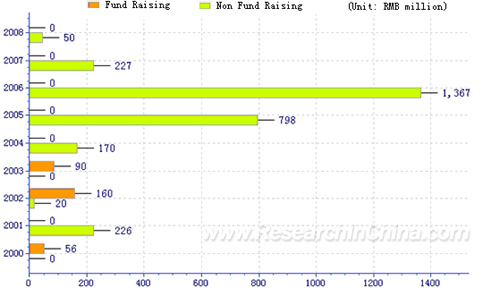 Source: ResearchInChina
Investment Distribution of Henan Shenhuo (by Segments), 2000-2008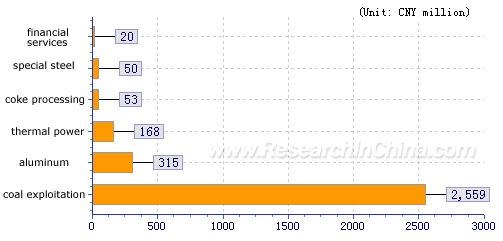 Source: ResearchInChina
Note: We can update the data in the report to the most recent quarter, when the report is purchased.