The rapaid growth of Chinese economy drives the auto industry to develop dramatically, which also boosts the prosperity of tyre industry. Data from National Bureau of Statistics reveal that the year of 2005 witnessed a sustainable and steady growth in tyre industry: the output reached 283 million units, up 18.7% over 2004; sales revenue also achieved more than RMB 80 billion, the output of radial tyre was 142 million units, that means over 50% tyre produced for the whole year were radial tyres, the output of full-steel radial tyre was 90 million units, increasing by 31% year on year; the output of steel-belted radial tyre was 111 million units, growing 70% over the year of 2004; tyre exports volume reached about 90 million units, up 31% over 2004 and export value achieved 3.2 billion US dollars, with a yr-on-yr increase rate of 50%.
Tyre Output in China, 1998-2005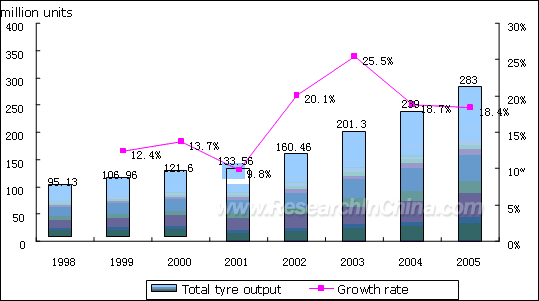 In the first half of 2006, raw material price was raised though, tyre output continued to be increased dramatically. According to data from China Rubber Industry Association, the total output increasing13.9% during Jan-Jul 2006 compared to the same period in 2005.
The growing tyre output stimulated the strong demand for raw material, for instance, in the first half of 2006, demand for carbon black increased by 13.9% compared to the 1st half 2005; rubber consumption reached 1.119 million tons, up by 20.23%. In particular, China imported even a larger number of raw rubbers, of which compound rubber and synthetic rubber quite outnumbered the natural rubber. In the 1st half 2006, China imported 720,000 tons of natural rubber, increasing by 13.2% compared to the 1st half 2005, the total import value was 1.27 billion US dollars, up by 68.2%, the average import price rose 48.6% to 1,764 US dollars per ton; Moreover, in the 1st half 2006, china imported 192,000 tons compound rubber and 672,000 tons synthetic rubber, up by 65.2% and 29% respectively compared to the 1st half 2005.

By 2010, the length of highway will reach 55,000 km, the annual output of cars will achieve 10 million and the vehicle ownership will increase to 62 million. According to the government's development plan for road, automotive and transportation, the demand for tyre is expected to reach 300 million including 210 million radial tyres.
Radical tyre is now enjoying a boom, both the domestic and foreign-funded manufacturers are expanding the production and add more investments, and this situation is expected to last for a few years. As a result, related industries such as rubber machinery, rubber additives and reinforcing materials also have a great development potential.