The report first provides you with the output and sales of China's auto industry in 2007 and then introduces China's top ten brands in the year in terms of output and sales in the first chapter of the report. According to the key indicators in 31 provinces, autonomous regions and municipalities directly under the central government, related to passenger cars, including per capita GDP, per capita disposable income, urban road length, the number of city buses, the second chapter of the report divides China's auto market into several regional ones with grades attached to each of them and makes SWOT analysis of urban auto markets in ten selected cities, to which the current market status of passenger cars and the future development of auto markets are provided. In the third chapter, the report summarizes the characteristics of regional distribution of local producers' market channels and then gives you an introduction of their respective channel distribution with their own advantages in certain regions highlighted. Based on the scores on the intensiveness of market competition, market size and degree of regional preference for brands (manufacturers) in the second and third chapters, regional markets are graded to provide references for manufacturers in extending their channels in the last chapter, which also makes analysis of changes in market channels of passenger cars.
China's auto industry is in the process of a rapid development. According to statistics of Chinese Association of Automobile Manufacturers (CAAM), the output of China passenger cars rose to 4.95 million units in 2007 from 1.09 million units in 2002, an increase of 3.8592 million units, representing the average annual growth rate of 35.33 percent.
Output of China Passenger Cars, 2002-2007 (unit: 10, 000)

Source: Chinese Association of Automobile Manufacturers
Market channels of China passenger cars have also obvious regional characteristics. Take Shenzhen City as an example, the city had 67,300 passenger cars in 2004 and the figure rose to 131,300 in 2007, representing average annual growth rate of 24.95 percent.
The top tree factors influencing auto consumers in Shenzhen are in turn price (35%), safety (26%) and brands (20%). As to fuel consumption, compared with consumers of other cities like Beijing, Shanghai, Chengdu and Guangzhou, Shenzhen consumers are relatively indifferent to it, accounting for only 4 percent.
As far as information gathering channels are concerned, Shenzhen consumers have their own characteristics. The top three channels are: going to 4s shops to see cars, which accounts for 33 percent, inquiring it from friends with experiences, which accounts for 27 percent, and trial driving, which accounts for 12 percent.
Review of Top 10 Auto Manufacturers in Sales in Shenzhen, 2005-2007(Units)
At present, there are a total of more than 30,000 auto dealers in China and 4s shops account for over one thirds of them. According to incomplete statistics, China's 21 local manufacturers of passenger cars have 7,604 sales outlets named after brands or producers.
Based on the data of the regional distribution of local producers' sales outlets, we can see the characteristics of market channels, which are as follows.
1. Dealers of passenger car are excessively concentrated in developed provinces and municipalities.
2. The distribution network of the 21 passenger car manufacturers can be divided into five categories based on the similarity of provinces and municipalities. The distribution network of manufacturers' brands in category 1 and 2 is relatively weak in developed areas, while that in category 3, 4 and 5 is comparatively strong in such areas.
3. There exist distinctive differences in choices between producers and regional dealers.
4. Market competition in less developed areas is more intensive than that in developed areas.

Passenger Car Dealers in Eight Key Developed Areas Like Provinces of Guangdong, Shandong and Jiangsu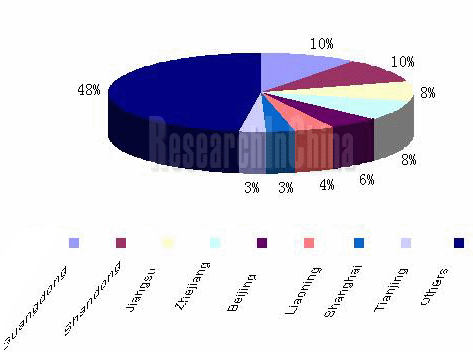 Source: ResearchInChina