The coating markets in developed countries are saturated and are now developing towards maturity after a rapid development. The developing countries and regions, however, have turned to be the new increase point of global coating industry considering the huge market potentials. It is estimated that some 70% increase will appear in Asia coating markets in the next 5-10 years while China is going to be the most active market with the fastest development.
The national economy decides the coating market development. Chinn's economy will witness a continually steady growth in the future. As for the downstream industries, the rapid development of automotive and real estate industry is about to bring great business opportunities for coating manufacturers and dealers. Furthermore, huge potential demand may happen on green and energy-saving coatings. According to the statistics of Ministry of Construction, China has 40 billion square meters of existing buildings, and of these, nearly one-third (about more than 13 billion square meters) needs an energy-saving reconstruction. It will cost about RMB 2.6 trillion calculated by RMB 200 per square meter, which means huge business opportunities in green and energy-saving coating market.
In China, coating mainly categorized as architectal coating and paint. Generally speaking, new records have been set in both the coating output and growth rate ever since 2001. The total output of coating reached 3.8257 million tons in 2005, increasing by 28.3% over 2.9815 million tons in 2004. China's coating industry is gradually getting out of the situation of "output increase without any income increase" starting from 2004 on the basis of raising price and strengthening marketing activities. The sales revenue of China's coating industry reached about RMB 73.474 billion in 2005, up 21.84% compared to 2004 and its gross profit was some RMB 4.431 billion with a yr-on-yr increase of 19%. Although the growth rate of sales revenue is lower than that of 2004, the profit has improved remarkably.
Official Statistics of National Pigment Output in Dec 2005 (Unit: ton)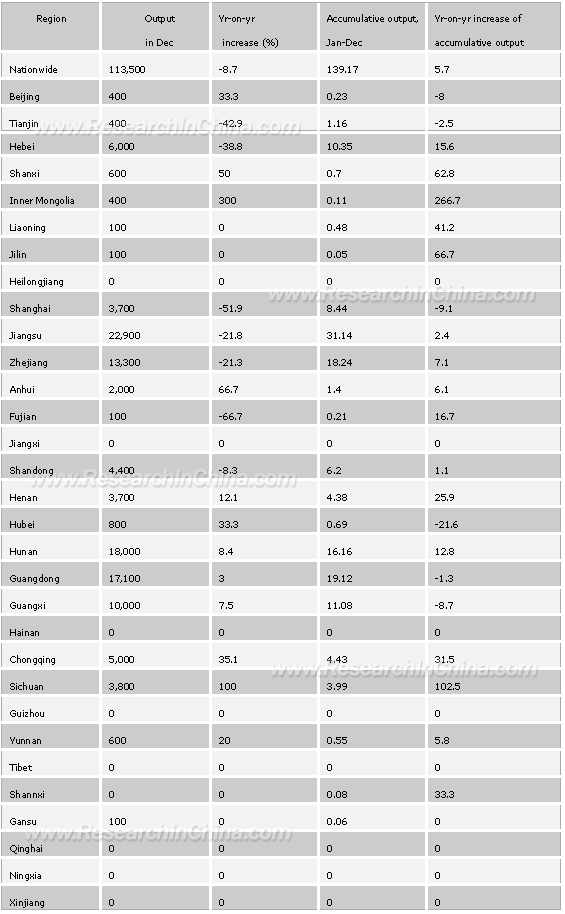 The global coating manufacturers are constantly developing towards collectiveness, large-scale and specialization in order to win the fierce competition while such objectives can be achieved by merger, reorganization as well as integration. Coating industry featured as low-technical entry, there are now about 10,000 coating companies in China, and the industry lacks well-known brands, price are in disorder, industrial criterion needs to be worked out and product quality is uneven, therefore, it is inevitable for China's coating industry to carry out merger & reorganization and integration.
Foreign-funded companies have taken action towards acquisition due to a well expect for China's coating market. Worldwide giant Akzo Nobel, Netherlands acquired Guangzhou Toide Coating Corporation in Oct 2005. Shunde Huarun Paints Co., Ltd was purchased by the Valspar Corporation,the forth largest coating corporation in the USA, which drew much attention of the industry. Apart from foreign coating giants, the domestic firms also began the acquisition. Maydos acquired Yangzhou Jinling, Beijing Sanqi and Zhejiang Rongtai and also hold a share of Guangzhou Supe, and it is also the shareholder of Shenzhen Motian and Foshan Eastman.
With the data sourced from National Bureau of Statistics, China Customs, Bureau of Statistics of Light Industry, China National Coatings Industry Association and coating manufacturers, the report makes an in-depth analysis on the economic feature, competition and future development of China's coating industry. It is a good reference for coating manufacturers, retail firms and investment institutes to understand the industry and make the right decision.