China ironstone source mostly covers eastern Liaoning, northern Hebei and western Sichuan. The mines are primarily controlled by large enterprises including Anshan Iron and Steel Group Corporation, Shougang Group and Panzhihua Iron & Steel (Group) Co. The output of China's original ironstone reached 420 million tons in 2005, up more than 35% over 2004.
The Output of Ironstone in China, 2001-2005 (Unit: Million tons)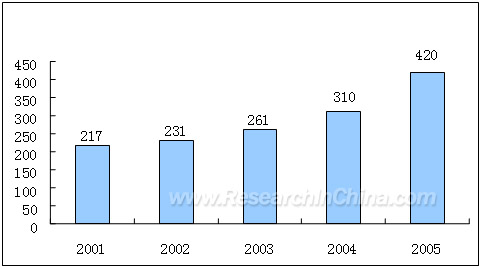 The output of ironstone exceeded 10 million tons in the following 8 provinces in 2005: Hebei (150 million tons), Liaoning (90.05 million tons), Inner Mongolia (29.98 million tons), Shanxi (21.03 million tons), Beijing (18.34 million tons), Sichuan (16.92 million tons), Anhui (10.99 million tons) and Shandong (10.77 million tons). The fixed investment of ironstone mining was RMB28.2 billion in 2005, increased 114% compared to the previous year. About 1.7 billion tons of ironstone was consumed in 2005 gloably, among which 524 million tons were consumed by China.
Domestic ironstone still can't satisfy the needs of steel production in 2006, at least 300 million tons have to be imported and the import dependency will exceed 52%. International ironstone trade will reach 700 million tons in 2006, among which about 42% is expected to trade with China. The price of sea freight for ironstone was fluctuating in 2005, in the first half saw a dramatic fall then in July began to rise and reached the ceiling in October. Another fluctuation followed and such decline lasted a few months. The sea freight market has had more demands since Feb 2006, so the price was raised. However, the market demand is now tending to be falling.
The global economic will keep steady growth in 2006 and the demand for steel is about to remain stable. That is to say other major countries that import ironstone will have a relatively stable demand. The total output of steel will continue to increase in China in 2006, but with a lower growth rate than 2005. In 2006, 70 millions tons extra ironstone need for steel production than 2005.
Due to the overproduction of steel in 2006, the ironstone import has been reduced in recent months, and the price has declined as well, but still had a large demand. China imported 27.28 million tons in April 2006, and 24.44 million tons in May, it rebounded to 28.73 million tons in June.
The ironstone Import in China, Jan-June 2006(Unit: million tons)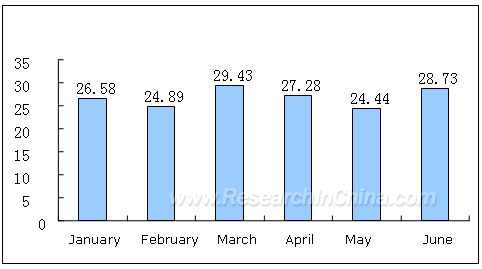 Accordingly, the C.I.F. has inclined to be lower since 2006. The average import price was 62.1 US dollars, 61.9 US dollars and 61.4 US dollars respectively from April to June. The price in June decreased by 1.76% over the end of March and decreased by 7.95% compared with 66.7 US dollars in Dec. 2005.
Change of C.I.F., April-June 2006 (Unit: US$ per ton)

The demand for imported ironstone will increase by some 45 million tons in China in 2006 with a rate decrease by over 13%. The actual import will be less if considering the 34.9 million tons stored in harbor.
The report giving a complete and objective analysis and forecast of the development trend of China's ironstone market, based on the review on of China ironstone market operation in 2005 and the first half of 2006. In addition, it offers valuable reference for ironstone and steel firms, investors and who are planning to involve in ironstone business.