With a history of over 20 years, Chinese environmental protection industry develops along with the environmental protection course. In the 1980s, the environmental pollution grew worse under the rapid growth of national economy, so measures were taken to control the pollution, and then environmental protection industry experienced a further development. In the 1990s, Environmental issues became more and more serious, therefore, relevant laws and regulations were improved and so did the environment standards. In particular, the environmental protection industry achieved a great progress during the 9th Five-Year Plan period
Water Quality of Seven Major Rivers, 2005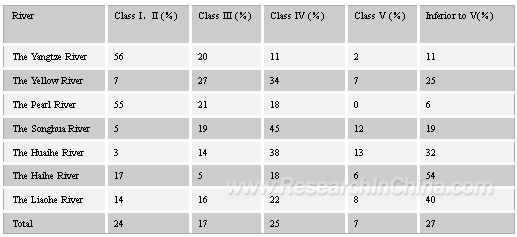 The government attaches increasing importance to environmental protection: During the 6th Five-Year Plan period, Chinese government invested RMB 15 billion in environmental protection, accounting for 0.5% of GDP and succeeding until the 9th Five-Year Plan period are respectively RMB 55billion, accounting for 0.67%, RMB 80 billion, accounting for over 0.8% and RMB 360 billion, accounting for 0.93%. During the 11th Five-Year Plan period, China will continue to enlarge the investment in pollution control and construction of ecological environment, the total value will reach RMB 1400 billion, accounting for 1.23% of GDP, up 0.1% over the 10th Five-Year Plan period. In addition, RMB 33.6 billion will be put into the operation of such 8 important projects as hazardous waste and medical waste treatment, urban sewage treatment, urban garbage treatment and desulphurization of coal-fired power plant.
At present, sewage treatment rate is only 45.6%, and more than half of sewage has not been dealt with in China. The objective in 11th Five-Year Plan period is that sewage treatment rate in all cities must exceed 60%. Moreover, for such key cities as capital cities and scenery tourist cities, the rate should exceed 70%. China plans to double its capability of urban sewage disposal in the following five years, which means a potential business opportunity of RMB 300 billion.
By the end of 2004, over 12,000 participants reached annual revenue more than RMB 2 million and nearly 1.595 million staff involved in this industry, the total industrial annual revenue reached RMB 457.21 billion, realizing a profit of RMB 39.39 billion. During the 11th Five-Year Plan period, the annual average increase rate for environmental protection industry is estimated to be about 15%; and annual production value will reach RMB 880 billion, in which comprehensive resource utilization accounts for RMB 660 billion, Environmental protection equipments accounts for RMB 120 billion, and environmental services accounts for RMB 100 billion.
With the rapid development of national economy, environmental protection has caught more and more attention. Undoubtedly, environmental protection industry in China, which is both technical guarantee and material base against environmental pollution, has still enormous market potential.