Titanium dioxide, as kind of large bulk chemical material, has a close relationship with the national economy. The prosperity of economy is bound to bring a vast development space for titanium dioxide. Through four decades of development, China has become the most vigorous one in titanium dioxide industry. Especially in the recent years, with certain industry base and scale, China is now the world second largest titanium dioxide manufacturing country next to USA.
With the heating up of titanium dioxide market both at home and abroad, another prosperity cycle for this industry is forthcoming. Along with the painting industry and plastic industry see a good rising, it is estimated that in the next five years the annual consumption growth of titanium dioxide will be 2%-3% all over the world, 5%-6% in Asia-Pacific and 10%-15% in China. According to the statistics from China Customs, the import of titanium accumulated to 227.7kilo tons and the export of titanium accumulated to 157.4kilo tons in 2005.
Import &Export of Titanium Dioxide, Jan 2005-Dec 2005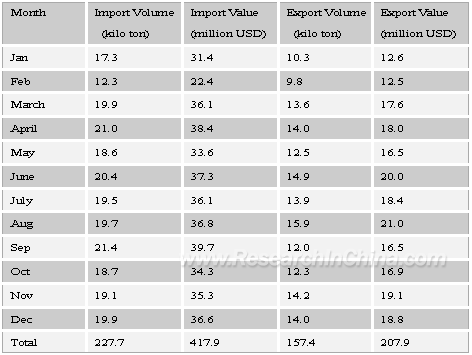 Import& Export of Titanium Dioxide, Jan 2006-July 2006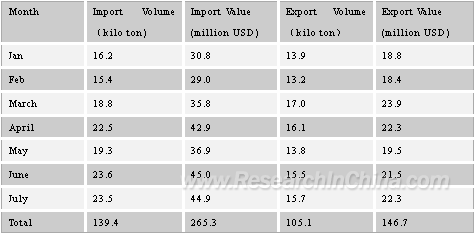 Due to the strong demand, supply tends to be short. Ever since 1997, very few new factories have been built----- On the contrary, considering the profits and environmental cost, one sulfate process device was closed by each of the world top titanium dioxide manufacturers of Millennium Chemicals, Kerr McGee Corporation and UuntsmanTioxide.
A sharp price rise has fallen into global titanium dioxide market at the beginning of 2006. World major titanium dioxide manufacturers like Millennium Chemicals and UuntsmanTioxide raised their market price one after another, which brought impact to China market as well. State Environmental Protection Administration of China and the local government punished several titanium dioxide enterprises that failed to meet the waste discharging standard. Some of these enterprises were enforced to limit or stop production and some were closed down, resulted in the titanium dioxide supply more difficult.

Although China is a big manufacturing country of titanium dioxide, yet the industrial quality needs to be improved and the product structure requires to be rationalized. Most of the middle-small enterprises concentrate on low-level product; as a result, product at the high end still depends a lot on import. In the near future, it will be an inevitable trend to take steps to restructure the product, to advance the techniques and to improve the quality.
As for the overall situation, China titanium dioxide market still has a promising prospect. Enterprises that meet the environmental policy and focus on high end products have more potential to win the market.