China's steel output reached 349.36 million tons in 2005, up by 24.6% over the year of 2004. The output of crude steel and steel products reached 199.4696 million tons and 221.9518 million tons respectively in the first half of 2006, up by 18.3% and 25.8% separately over the same period of last year. From the year of 2005 to the first half of 2006, the overall technology of steel industry has been greatly improved, product structure has been constantly optimized and, import & export kept basically balanced. The internal structures of enterprises have been further adjusted, industrial concentration has been advanced and, international competitiveness has been enhanced. The profits, however, grew at a lower rate. Furthermore, the price also experienced a wild fluctuation in 2005: it set the highest record in the first quarter but began slipping due to a sharp rise in domestic newly-added resources and then dived in the fourth quarter.
China's steel industry is now going to turn from a rapid growth into a slower but steady stage. As macro-economy has slowed down since early 2006, the overall domestic production capacity shows a sign of supply exceeding demand by stages, which is featured by that high-end products are short of supply but low-end ones are in overproduction, i.e. construction steels like wiring steel, screw-thread steel and bar steel achieved self-support at more than 100% while that only reached about 60% in electric steel, coated sheet and cold-flat rolled steel sheet market.
Top Five Imported Steel Products, 2005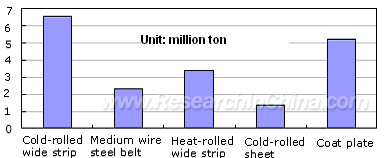 It is no doubt that the policies on China steel industry play an important role for the healthy development as well as for the investment in the field. Moreover, the encouraging policies of merger and acquisition among steel firms also stimulate the development of China steel industry, but the notion of making larger doesn't mean being stronger must bear in mind.
It is possible that multi-aspect, regional and complementary industrial structure will appear in China steel industry thanks to the geographic distribution. Small-scale listed steel companies will face a grim challenge during the integration, but steel industry will still develop towards acquisition & reorganization during the 11th Five-year Plan period. Industrial policies released by Chinese government indicate that some steel enterprises with production capacity below 5 million tons are likely to be invested domestically, yet they may fail to make sound achievement under the pressure of fierce competition; while steel giants can grow larger and stronger through acquisition & reorganization. Therefore, they will eventually control the market though there is a long road to go.