During the recent 10 years, the average annual growth rate of China's domestic consumption in paper & paperboard has exceeded that of GDP and China presently has become the second largest country in respect of paper consumption as well as paper production. China's papermaking industry saw an average annual growth of 8.8% from the year of 1991 to 2001 and has kept a rising momentum ever since 2002 with the income and profit growth exceeding 15%. From Jan to Jun 2005, papermaking and paper product industry achieved production value of RMB 186,693 million, up by 22.78% over the same period of 2004 and the sales/production ratio is 97.42%, which indicated a momentum equal to the past years. Generally speaking, both production and sales are thriving with an average industry growth speed of above 20%.
Production and Consumption of China's Paper and Paperboard, 2001-2008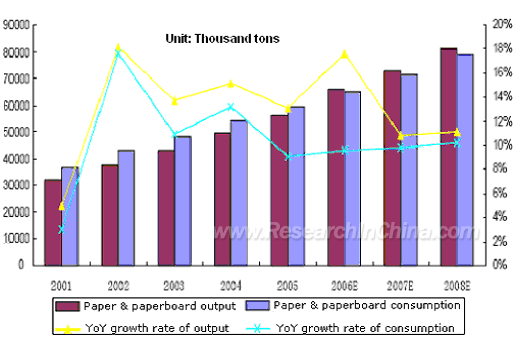 The consumption in paper and paperboard is highly correlated with the national economy. Statistics shows that in the past 20 years, the correlation coefficient between China's domestic paper demand and GDP reached 98.3%. From the angle of China's consumption per capita in paper and paperboard, it was far below than that of developed countries, even the global average level. China's consumption per capita in 2005 only reached 45 kg, which is lower than that of the world (56kg), America (310kg), Japan (247kg), Germany (236 kg) and Canada (220kg). Judging from the development process of developed countries, there should be huge potential in China's paper and paperboard consumption.