The demands for paper products have grown rapidly in China, along with the printing and packaging industries increasing at an average annual rate of 18%. The statistics showed that consumption in paper and cardboard in China was recorded around 62.56 million tons in 2005, only next to the United States, with a year-on-year growth of 15%. China, which has become the world's second largest paper consumer only after the United States, shares more than 14% of global paper consumption.
During January to July in 2006, total production of machine-made paper and paperboard in large papermaking enterprises increased by 23.68% over the same period of previous year, especially in printing paper, rising sharply by 44.26%, which was far more than that in 2005. Cardboard boxes output has increased remarkably with growth rate of more than 10% over the same period in 2005. Due to inventory and large cardinal number, the output of newsprint grew moderately in the first few months of 2006 but has been keeping rising in recent months owing to the digest of inventory, reaching nearly 400,000 tons monthly.
During the first seven months of 2006, the rapid increase in all major paper output promoted the steady growth of the industrial production value. In the period, the entire industry was recorded a total production value of RMB 171.8 billion, a marked increase of 26.11% over the same period of previous year, but the growth speed tended to slow down due to the gradually increasing cardinal number.
China's paper-making industry has experienced a rapid growth in consumption as well as in output, therefore, many Chinese leading paper-making enterprises started introducing new production lines, which resulted in an over expansion in production capacity, particularly in 2005-2006. In addition, the international paper-making giants have landed in China for investment and set up plants. About 59 million tons of paper and paperboard were produced in 2005. The whole industry presents a balance between supply and demand, while newsprint and coated paper will experience an oversupply in short time for their excessive expansion of production capacity.
With the improvement of people's living standards and papermaking techniques, China paper products will be qualified and diversified. Imported paper products tend to be more upscale while domestic paper product lines are getting further expanded so as to bridge the previous gaps, and besides, the demands for such high-end raw materials as prime pulp are gradually increasing.
Import and Export of China Packaging Paper, 1996-2005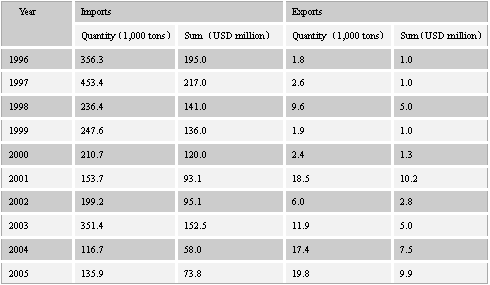 Although China enjoyed a rapid growth in paper and cardboard consumption with compound annual growth rate reaching 14% in 2001-2005, current per capita consumption in China was only 42 kilograms, far below that of 300 kilograms in developed countries, and also lower than the world's average consumption of 52 kilograms. Based on China's expected sustained and rapid economic growth, China paper industry will maintain a fairly high growth rate in the next few years.