With the fast growth of industries like furniture, real estate, construction engineering and logistics packaging etc in recent years, the timber processing industry achieved rapid development in China. Major Chinese timber processing enterprises are gradually growing powerful, being capable of independent R&D and have great productive and competitive capability in rampant markets of segmented products and differentiated services.
Since 2005, China witnessed a fast growth of major timber products in terms of export. From the perspective of quantities, five major categories, that is, log, sawn timber, veneer board, fiber board and furniture in 2005 grew rapidly, up by 16.94%, 35.68%, 30.45%, 355% and 18.27% respectively over the year of 2004, while from the angle of total value, the year-on-year rise is 5.73%, 34%, 55.32%, 393% and 29.43% separately, which indicated China timber products industry has made great development in the year of 2005.
Monthly Price Trend of China Artificial Board, 2003-2005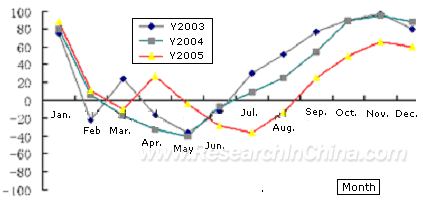 Though China is a major producer of timber and wooden products as well as a large consumer, it has little forestry (timber) resources per capita. Since the State started the Natural Forest Preserving Project in the year of 1998, the forest harvesting has been significantly reduced in China, which resulted in great imbalance of timer supply and demand. The import of wooden materials becomes a must as the rapid development of China's economy, the expanding of infrastructure construction and the improvement of people's living standards.
During the process of economic globalization, China will play a more active role in the world and will become the center of world manufacturing industry for high-quality and cost-efficient labor force. In particular, as a labor-intensive industry, the timber processing industry, like veneer board and furniture manufacturing, could take in a large number of labor force and produce price-advantageous products for export.
It is forecasted that China timber industry will maintain a fast growth in the future. China will develop towards a real strong country instead of a mere large one in the timber processing industry.