As we all know, cement acts as an important and fundamental raw material for national economy. Since China's implementation of Reform and Opening-up policy, China cement industry has witnessed a rapid growth. The cement output reached 1.06 billion tons in the year of 2005, accounting for about 48% of the global total. During the first three quarters of 2006, the output accumulated to 871.5479 million tons with a year-on-year growth of 20.7%. Basically, the rapid growth of cement output could meet the demand of the fast growth of national economy and the large-scale economic construction.
Statistics of China Cement Output, 1991-2005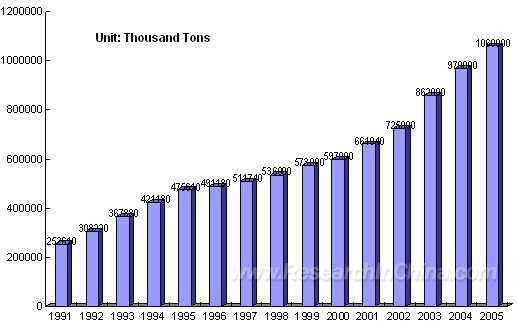 In spite of great achievements in China cement industry, the structural problems are conspicuously reflected here, mainly including small corporate scale, low product grade, backward production capacity, high energy & resources consumption and severe environmental pollution, etc, which not only resulted from the long-term low level industrial development, but blindness expansion of some enterprises in recent years.
Scale Comparison between Chinese and Overseas Cement Enterprises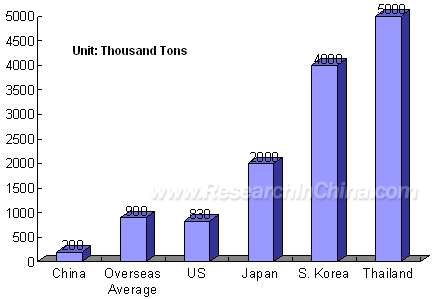 To address the above mentioned issues, the document of The Notice of Several Suggestions for Accelerating Structural Adjustment of China Cement Industry was released by eight national Ministries and commissions such as National Reform and Development Commission on April 28 of 2006, so as to foster the development of large scale cement enterprises and groups. In October of 2006, the National Reform and Development Commission issued another important two documents of Special Planning for Cement Industry Development and Policies for Cement Industry Development, which actively encourages the merger and reorganization among powerful cement enterprises, so as to enhance the industrial concentration and market competitiveness.
Structural Adjustment Goals of China Cement Industry by 2010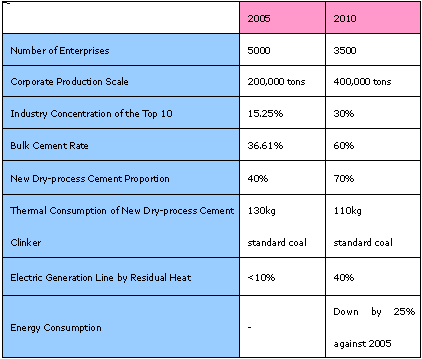 What's more, the disappointing operation of small and medium cement enterprises and the considerable benefits of leading cement giants impress the market. The acknowledgement of successful business through merger and reorganization has been reached among cement enterprises. In 2006, further structural adjustment of cement industry was implemented. On the one hand Chinese large scale cement enterprises accelerated the acquisition step for huge benefits; on the other hand, overseas cement giants entered Chinese market for further opportunities, which resulted in a new wave of merger and acquisition in cement industry.
In the next decade, China will actively promote the structural adjustment of domestic cement industry, support the development of large scale enterprises, and improve the industry concentration. Some small and medium cement enterprise will gradually exit from the competitive market.