China's economy remained a steady growth in the year of 2006. By 2007, the newly-increased steel & iron production capacity is expected to reach 30-40 million tons with a capacity utilization of 85%, up 2% from a year earlier.
Steel & Iron Production Capacity and Application Ratio, 2003-2006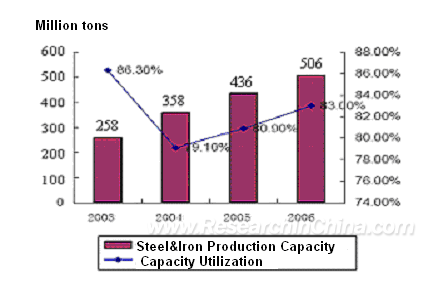 The output of medium-heavy plate has been presenting a rapidly growing momentum in recent years, at an increased rate. The output increased from 15.6% in 2004 to 22.1% in 2005 and even rose to 24.4% by Nov 2006 over the same period of 2005, almost the same as the annual growth of rolled steel. Jiangsu Shagang Group Co., Ltd and Sanming Steel Works also plan to launch the production line of medium-heavy plate by early 2007.
China medium-heavy plate market had a solid foundation in 2006. The gradually improved economic level drives the demands of medium-heavy plate growing strongly. Owing to the unique performance and specification plus the necessary structural adjustment, medium-heavy plate more caters for the taste of downstream users and, its applications in shipbuilding, automobile, machinery, architecture and petrochemical will continue to witness a robust growth.
Medium-heavy plate exports have been developing amazingly since the second half of 2006, which plays a positive role to level off its domestic market. The export volume of hot rolled medium-heavy plate has amounted to 2.93 million tons by Oct 2006, more than doubled of 1.19 million tons in the same period of 2005. The strong export momentum of shipbuilding steel plate kept growing, so it can be estimated that global shipbuilding industry will still enjoy a boom in the next few years.
In 2006, the hot-rolled wide strip developed steadily owing to the slow-paced output growth. Besides, medium-heavy wide strip weaken its negative influences on medium-heavy plate market (in the first 11 months of 2006, the output of medium-heavy wide strip increased by only 21.1%, down 17.2% compared to 38.3% of the year of 2005). What's more, the market price of hot-rolled coil kept stable, which is helpful to stabilize the medium-heavy plate market. Overall, medium-heavy plate market went steadily after experienced an adjustment in early 2006 and then turned into balance by the end of 2006.
Conclusively, China's domestic medium-heavy market will continue to be stable but the increasing market resources need to be paid an attention.