The price difference of the electrolytic aluminum and alumina on hand continued to decrease. The announcement of American aluminum industry to acquire the aluminum made the price of electrolytic aluminum continue to recover, and the price of alumina on hand is about RMB 4000/ton.
Due to the decrease of the inventory, the zinc price recovered 9.2%, and rose to USD $4000/ton, and China remained the net export country of zinc.
Under the condition of a bit drop of dollar indices, as well as the rebound and recovery of oil price, the price of gold recovered after reaching USD $700/ounce, while it remained above USD $650/ounce steadily.

Gold Price of London and Shanghai, Jan 2006-May 2007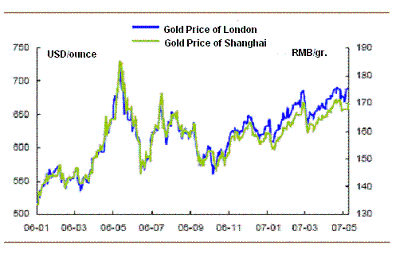 Source:ResearchInChina