In the year 2006, China's cement industry received a sales income of RMB 321.692 billion, up by 23.33% year on year; the profit reached RMB 15.038 billion, up by 92.58% year on year.
In Jan-Mar 2007, China produced 193.24 million tons of cement clinker, an increase of 14.54% over the same period of 2006. The top 5 provinces ranked by output were Shandong, Guangdong, Anhui, Jiangsu and Zhejiang in file.
China imported 49,801 tons of cement clinker, up by 55% over the same period of last year; and imported 152,620 tons, down by 14%; the importation volume of the most widely used Portland cement was149,241 tons, down by 15% year on year.
According to the Plan of Cement Industry during the 11th Five-Year Plan Period, it's estimated that by the year 2010, China's will have washed out the backward production capacity of 250 million tons, and the enterprise amount will have declined to about 3500 from the current 5000; the average production scale of enterprises will have increased to 400 thousand tons from the 200 thousand tons in 2005, and the proportion of cement in new dry process production will have exceeded 70%. The adjustment in industry structure will boost the merger and acquisition inside the industry; in addition, the assets reorganization of domestic and foreign cement companies will be more active.
Statistics of China's Cement Output, 1996-2006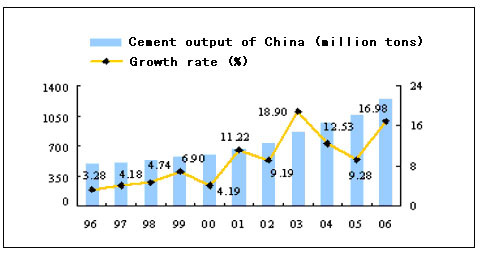 Growth Rate of China's Regional Cement Output, 2006

Production Capacity and Profitability of Major Listed Cement Companies, 2006