The previous main operations of Nanshan Aluminum were aluminum profile and worsted fabric, which shared 81% and 16% respectively in main operating revenue and 62% and 32% respectively in main operating profits in 2006. Its assets include Nanshan Thermal Power Plant, Nanshan Aluminum Co., Ltd, Nanshan Aluminum Profile Plant and Nanshan Worsted Fabric Plant.
At the end of Apr 2007, the additional stock issuance was finished; both cold and hot pressing lines were put into operation. Nanshan Aluminum possesses an integrative industrial chain from power plant, alumina, electrolytic aluminum to cold rolled sheets and aluminum foils of downstream. It is expected that hot and cold rolled sheets and aluminum foils will contribute 60% of the company's prime operating revenue in 2008.
In recent years, domestic consumption of high-grade aluminum plates and sheets increases rapidly, seeing annual growth rate of over 25%. However, domestic supply of high-grade aluminum sheets and plates is heavily lacked, only meeting 10% of the total demand. In 2006, China consumed can materials, high-grade PS boards, double zero foil blanks and high-grade aluminum plastic composite panels totally 714,000 tons, but domestic supply only met less than 200,000 tons.
Composition of Prime Operating Revenue of Nanshan Aluminum, 2006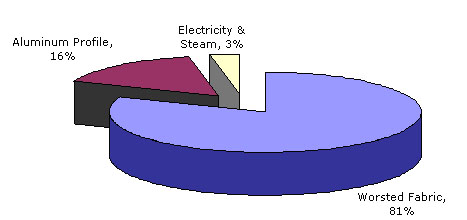 Output and Import Volume of High-grade Aluminum Plates and Sheets in China, 2006
(Unit: 10,000 tons)
Supply and Demand Forecast of High-grade Cold Pressed Rolls in China, 2004-2010
(Unit: 10,000 tons)