The operation scope of the Company is the production and sales of titanium dioxide and relevant chemical industrial products. The main product is anatase titanium dioxide, which is widely used in dope, plastics, papermaking, chemical fiber, rubber and other industries. The current production capacity of the Company was 30000 tons/year, and it is the second largest titanium dioxide manufacturer in Anhui Province. In addition, the actual output of titanium dioxide in 2005 ranked the 7th place in the industry in China, and the anatase titanium dioxide ranked the 2nd place.
The production capacity of titanium dioxide in China was about 850 thousand tons per year and, the total output was around 730 thousand tons in 2005, increasing 130 thousand tons from a year earlier with a growth margin of 21.7%, among which, the rutile titanium dioxide was 226 thousand tons, rising 83.1 thousand tons with a year-on-year increase of 58.2%; and the anatase titanium dioxide was 410 thousand tons, up 50 thousand tons over the previous year with a growth rate of 13.9%.
The average growth rate of the titanium dioxide consumption will reach 10-15% in China in the forthcoming five years. Even calculated as 10%, the increase pace, the demand of titanium dioxide in 2010 will amount to 1.25 million tons in China. Then, the titanium dioxide output will be estimated at 1.4 million tons in China. Moreover, the increase pace of titanium dioxide export will be higher than the output. The average increase margin will be 23.1% during the 11th Five-Year Plan period, and it is forecasted that the export will amount to 450 thousand tons in 2010; therefore, 280 thousand tons will be lack in China.
Main Business Income Composition, 2006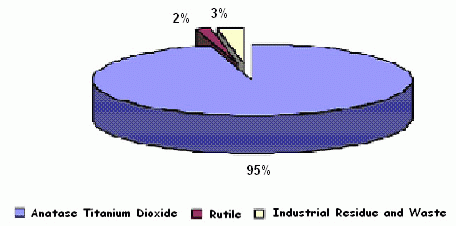 Titanium Dioxide Production and Sales in China