Global organic silicon industry has been in its maturity after more than six decades' development with an annual growth rate of 6%. It is forecasted that China's organic silicon industry will keep a fast growth of 20% annually in the next five years from 2007.
The world's five biggest multinational corporations take an 80% share of organic silicon market. In 2006, the large jointly-funded siloxane projects of Dow Corning and WAKER in China were approved. GE and Rhodia Group sold their organic silicon business divisions successively. There is a new competitive pattern in organic silicon industry. The rapid development of China organic silicon industry becomes the world's focus and, foreign manufacturers successively marched into China. Of them, Dow Corning has completed its strategic layout in China.
China's production capacity of organic siloxane has realized 50,000 tons per year, while that of in the world has been up to 100,000 tons more per year. The downstream products of organic silicon can be divided into more than 1,000 varieties (mainly in the field of silicone rubber), 500 of which have been widely applied. China-made silicone rubber has been mainly applied in electronic products, while the demand of highly required products that applied for architecture and automobile still relies upon imports.
Development of Global Organic Silicon Industry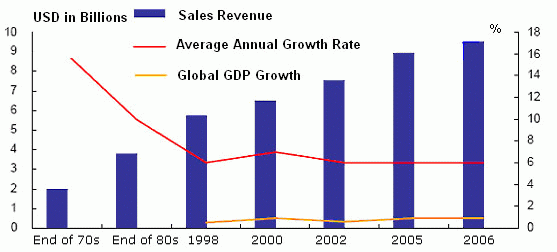 Statistical Revenues of Organic Silicon Enterprises, 2004-2006