After completing the assets replacement at the end of 2006, Fuhuan Group Co., Ltd considers electronic fiberglass cloth as the main industry and electric power, Coca-Cola and PTA, etc major investment projects as stable profit sources. Its profitability improves a lot.
Fuhua Group Co., Ltd., one of China's largest electronic fiberglass cloth manufacturers, is gradually releasing its production capacity. The estimated sales volumes from 2007 to 2009 will be 90 million meters, 100 million meters and 108 million meters respectively with revenue of RMB 482 million, 540 million and 589 million, up by 33.62%, 12.15% and 9% yr-on-yr. Influenced by kiln repair, in 2007, the proportion of outsourced yarns will ascend to 87% from 47%; and the gross profit margin will decline to 10.79%, which will rebound to 16.5% and 15.79% in 2008 and 2009 when self-owned kilns will be put into operation.
Jointly founded power plants are the major profit sources of the company. The newly-built No. 3 and No. 4 units were put into operation at the beginning of 2007, becoming the major driving force enabling 2008's operating performance to double. The installed capacity of power plants increased to 2.6 million kilowatts from 1.4 million kilowatts, up by 85%.

Proportion of Fiberglass Cloth in Income and Profit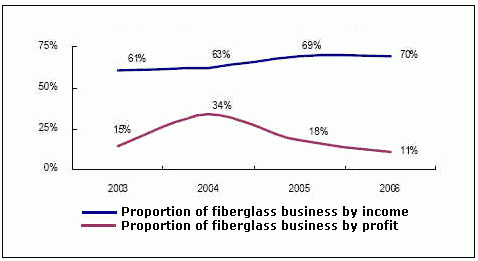 Statistics and Forecast of Domestic Production Capacity of Electronic Fiberglass Cloth