In Jan-Apr 2007, the global vanadium output increased by 2.7% year-on-year, amounting to 1177 thousand tons, and the growth mainly existed in Bolivia, China, Peru, Russia and Sweden, though Australia's output declined. During the same period, the world's refined lead output rose by merely 1%, and the growth mainly scattered in Morocco and America; Europe's lead consumption ascended by 3.3% year-on-year, China up by 19.3% yet America down by 8%.
In Jan-Apr 2007, China's domestic lead output was 850 thousand tons, down by 1.7% over the same period of last year; however, the output in Jan-Apr, 2006 increased by 31%.
In Jan–Apr the global zinc ore output grew by 7%, mainly in Peru and China; during the same period, zinc metal output rose by 10.2%, and the growth appeared in most countries, mainly in China and Mexico; America's zinc consumption declined by 7.1%, yet China and Europe up by 8.4% and 8% respectively.
Global Zinc Supply and Demand, 2002-2007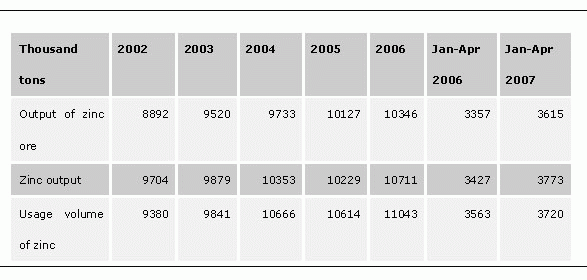 Lead and Zinc Ore and Metal Output of Shenzhen Nonfemet, 2005-2008