China's output of organic silicon products will keep an annual growth rate of 20% or so in the forthcoming years. The consumption of siloxane in 2005 reached 199 thousand tons or 400 million tons of organic single silicon. And siloxane consumption will amount to 343 thousand tons in 2008 or about 700 thousand tons of organic single silicon.
Since Bisphenol manufacturing technique is so complicated that it is hard to be obtained from abroad. The reality is that the supply of Bisphenol A is under the control of overseas manufacturers, which seriously hampers the development of China's epoxy resin industry and other downstream industries. Restricted by technical factor, many Bisphenol projects of Chinese enterprises can not be normally carried out. It is expected that China's output of Bisphenol will be up to 110 thousand tons in 2007. At present, Wuxi Resin Plant of Blue Star New Chemical Material Co., Ltd. has the ability to compete with international counterparts.
In 2007, the company's output of organic single silicon reached 200 thousand tons, and the company guaranteed the source of silicon materials by acquiring Lanzhou Silicon Material Company.
Composition of Main Business Revenue of the Company, 2006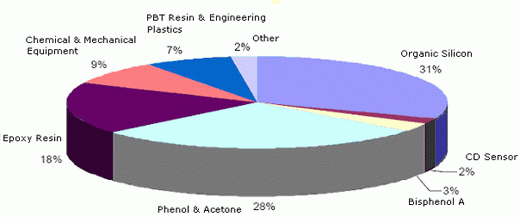 China's Imports of Polycarbonate, 1998-2007