Domestic total output of alumina reached 8.51 million tons in 2005, while the demand was about 13 million, so 7.02 million tons were imported. Domestic output of alumina was 13.70 million tons in 2006. According to the expectation of Ministry of Commerce, the demand would be 18.15 million tons. Gap between supply and demand of 4.45 million tons and then 6.91 million tons of alumina was imported.
It's predicated that in 2007, China's alumina production capability will reach 26 million tons, up by 42% year on year; and the output will be about 20 million tons, increasing by 46% over the same period last year. By the year 2008, China's annual production capacity of alumina will approach 33 million tons; along with the release of alumina production capacity in 2007, the global alumina market will enter an overplus cycle. And the anaphase pressure in price reduction of alumina still exists. After 2010, the alumina market will be basically balanced between supply and demand instead of severely short supply.
The production capacity expansion caused by the high alumina price of the past years led to a long-term surplus supply in the world's alumina industry. High price of alumina in the past few years led to the expansion of production capability, resulting in a long-term surplus in global alumina market. We insist that influenced by the restriction from raw material supply and cost support, the global alumina price will keep low in 2007; while in the future, the alumina price will be around RMB 2400 Yuan per ton, which may differ from other consultancies. Meanwhile, the increased market fluctuation will urge China's alumina enterprises to merge and reorganize. The industry concentration degree will be further improved. And the merger and reorganization centralizing in China's alumina industry will become the focus in improving the concentration degree of China's electrolysis aluminum industry.

Forecast on China's Alumina Output and Growth Rate, 2001-2010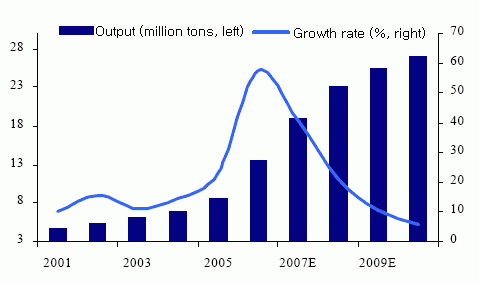 China's Alumina Output and Demand, 2001-2010 (million tons)