China's molybdenum market showed a steady decline in 2006 but the price still held high.
Ferro Molybdenum Price Trend, 2006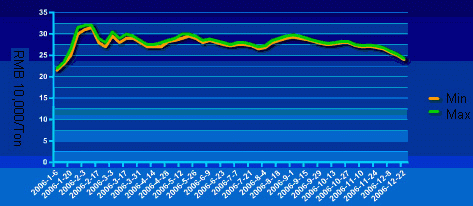 China produced 78,123 tons of molybdenum concentrate in 2005. As molybdenum mines in the Huludao area stopped production for regulation, the production was 6.48% less than 2004.
According to statistics, From Jan 2006 to Nov 2006, China's total output of molybdenum concentrate hit 86,895 tons, up 48.65% over 2005. Particularly, Henan topped the 1st in molybdenum concentrate production among Chinese provinces. Its total output of molybdenum concentrate was 38,338.4 tons by Nov. Compared to the same period of the previous year, the growth was 125%.
The molybdenum concentrate output in China is expected to increase at a pace of 10,000-15,000 tons per year in the next five years. In addition, the ferro molybdenum and molybdenum oxide outputs will also see an expansion. Presently many molybdenum projects are under construction or planned to start. Expansion programs are made by domestic manufacturers, which will improve China's production capacity of molybdenum somewhat in the near future. Then, not only the molybdenum concentrate, but the ferro molybdenum and the molybdenum oxide will witness an increase in output.
According to China Customs, China has exported 17,342 tons of ferro molybdenum and 26,926 tons of molybdenum oxide by Nov 2006, down 31% and 4.93% respectively from the year-earlier period.
Foreign Trade of Main Molybdenum Products in China, 2004-2006 (Unit: Ton)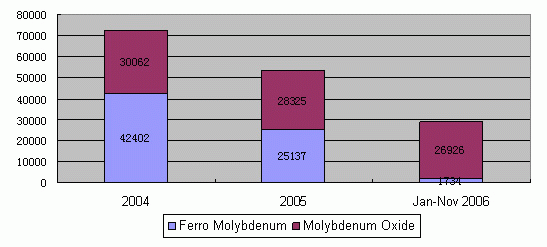 Among all the molybdenum exports, ferro molybdenum and molybdenum oxide accounts for the largest proportion, which is closely related to the product structure in China's molybdenum industry. Take a look at export data in the past years and we find that molybdenum chemical products and molybdenum deep processing products took up only 8% to 12% of all molybdenum exports, while export quota of ferro molybdenum and molybdenum oxide was 88%-92%. All of these tell that product structure in China's molybdenum industry is still unbalanced and unreasonable.
Now great changes are taking place as some molybdenum manufacturers constantly extend their products, for instance, Jinduicheng Molybdenum Group Co., Ltd and China Molybdenum Co., Ltd, the two largest molybdenum manufacturers in China, have introduced deep processing production lines as well as foreign advanced technologies in recent years, taking the lead in progressing production structure adjustment in the whole molybdenum industry.
China's molybdenum exports are mainly sold to Holland, Korea, Japan, Chinese Taiwan, USA, and India.
China's Molybdenum Exports, Jan-Nov 2006 (Unit: Ton)