From Jan to Aug, 2007, assets in steel industry totaled RMB2.674 trillion, up 23.83% year on year. Investment in the industry had a clear rise. From Jan to Aug, 2007, sales revenue of the entire industry rose 36.15% year on year, showing a fast growth of sales revenue. Profits from Januray to August in 2007 reached RMB124.51 billion, compared with RMB78.85 billion in the same period of 2006. The profits grew at a marvelous speed, which was far higher than sales revenue. This indicates that steel industry has entered its golden period of developing by leaps and jumps.
Overall Economic Returns of Steel Industry, Jan-Aug 2007

In Aug 2007, domestic output of crude steel reached 41.58 million tons, up 13.6% year on year, which declined a little compared to 14.5% recorded in July 2007. Domestic output of steel products was 48.273 million tons, up 23.7% year on year, which was almost the same to 23.9% posted in July 2007. As for the overall situation of steel industry in August, there was no obvious drop in output of crude steel and steel products, however, the growth rate of production month on month had a big decline, compared to the earlier period of the year.
Look at the specific growth of each of the following companies. From January to August 2007, Baosteel produced 18.95 million tons of crude steel, up 6.5% on year, ranking the first China, followed by the Anshan and Benxi Steel Group, which produced 15.62 million tons of crude steel, up 4.8% on year. Among the top 12 steel producers, Shanxi Taigang Stainess Steel Co. produced 6.12 million tons of crude steel, up 67.9% on year, but its growth rate was the fastest in the industry.
Top 10 Steel Companies in terms of Crude Steel Output in China in Jan.- Aug. 2007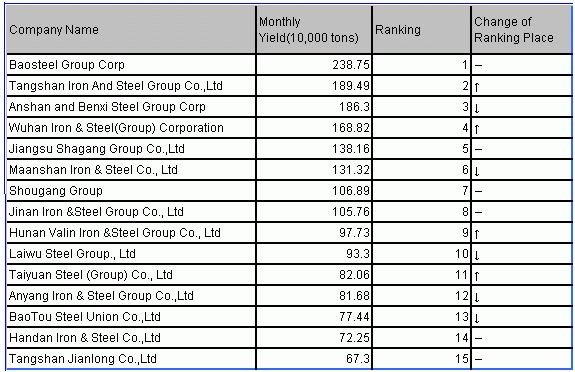 The years of 2007 to 2008 are a period of fast expansion of steel plate production capacity in China. Demand and supply are basically balanced in China steel market. China's steel industry in the future may develop with following characteristics.
Iron ore price will still be on the upward trend, but the growth rate of price will slow down;
Policy risks will increase and the pressure of environment protection will be increasingly havier to companies;
Export pressure will also grow;
As required by the national policy, China will create more large steel conglomerates, which weigh on the development of middle-small steel producers.