According to the data of the U.S. Geological Survey released in 2006, the basic reserves of rare earth in the world amounted to 154 million tons. China's rare earth reserves account for 57% of the world's total, ranking the first, followed by Commonwealth of Independent States, U.S.A., Australia and India. Currently, the global rare earth inventories can last for 1.5 years in static use and the world's rare earth reserves may last for more than 200 years in static use.
Although China has the largest rare earth reserves in the world, its share of rare earth resources in the global total is on the downward trend. China's per capita possession of rare earth has dropped to 21g/person from 33g/person in 1998.
In 2007, China carried out mandatory management plan on the production of rare earth products and smelting & separating rare earth products. In the year, the output of rare earth products was 120,800 tons, (by REO, the same hereinafter), down 8.83% year on year, and the output of smelting and separating rare earth products was 126,000 tons (including nearly 18,000 tons from waste recovery), down 19.75% year on year.
China Export of Rare Earth Products, 2000-2007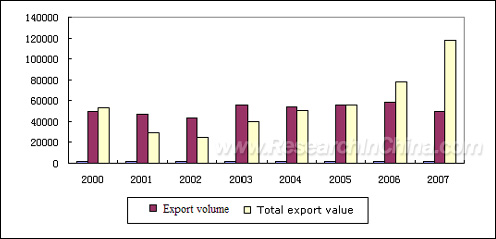 Source: The Chinese Associate of Rare Earth Industry
In 2007, China's export volume of rare earth products (rare-earth magnet included) was 49,000 tons, down 14.93% year on year, but the export value reached US$1,18 billion, up 51% year on year. Among the total exports, the export volume of rare-earth magnet, exporting to 69 countries and regions, reached 21,532 tons, nearly doubling against the pervious year, and the export value was US$415 million, up 36.96% year on year. The top nations and regions in terms of China's export volume were Hong Kong and USA, Japan, Singapore, German, Thailand, Korea, Italy, Holland and Finland.
The report is based on the authoritative data from the Chinese Associate of Rare Earth Industry, the Chinese Society of Rare Earths, the China Petroleum and Chemical Industry Association, the General Administration of Customs of China, the State Information Center and the National Bureau of Statistics of China and the information from financial reports of some key companies.