Huadong Medicine Co., Ltd. was founded in March, 1993, based on the medicine distribution network in Hanzhou, capital of Zhejiang province, after a government-oriented restructuring. On December 22, 1999, the company went public on the Shenzhen Stock Exchange and raised around CNY288 million through issuing 5,000 shares. Its main business covers the production and sale of chemical medicine and traditional Chinese medicine.
Structure of Main Business Revenue of Huadong Medicine

(Unit: CNY billion)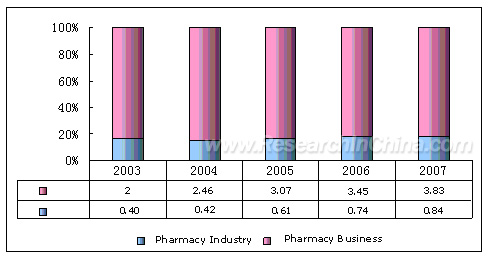 Source: ResearchInChina
Huadong Medicine's main business revenue covers two parts-pharmacy industry and pharmacy business. Since the gross profit margin of pharmacy industry is much higher than the pharmacy business, Huadong Medicine has been making vigorous efforts to open up the market of the pharmacy industry, which has made the proportion of its pharmacy industry to the total main business revenue increase year by year. This is one of the key reasons that the company's performance rose gradually in the recently years.
According to the company's announcement on April 3, 2008, Huadong Medicine plans to acquire 78.87% stake in Xi'an Bohua Pharmaceutical Co., Ltd. and 65% stake in the latter's subsidiary named Shaanxi Jiuzhou Medicine Co., Ltd. for CNY98 million. The acquisition, if done, will not only help the company reinforce its strength in special pharmaceutical raw materials, but also enter the narcotic market with high barriers to enter.