Transport infrastructure industry covers highways, railways, ports, inland waterway and airports, of which expressways, airports and ports have especially achieved the eye-catching development.
By the end of 2007, China's total length of expressways has reached 53,600 kilometers or km, and meanwhile, China has had a total number of 21 provinces, autonomous regions and municipalities, each of which has a length of expressways of over 1,000 km. In 2007, the national passenger throughput of all airports across China totaled 387.59 million person-trips, up 16.8% year-on-year. In the year, the national cargo throughput of all ports above designated size reached 5.28 billion tons, rising 14.8% year on year.
The report makes a thorough study on all investment projects financed by 33 listed companies in China's transport infrastructure industry from 2000 to the first half of 2008, and also makes a summary on the investment trend of the industry, as well as the investment characteristics and trend of all the listed companies.
Investment Distribution of China Stock Listed Transport Infrastructure Companies by Region, 2000-H1 2008 (Unit: CNY million)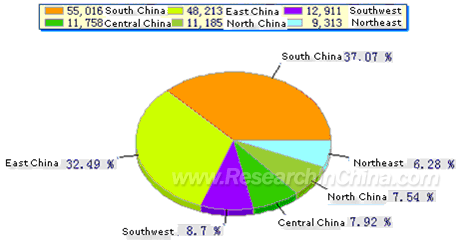 Source: ResearchInChina
The chart shows that South China and East China are in the leading positions in investment by listed companies in transport infrastructure industry, and their investment amounts to 37.07% and 32.49% of the national total respectively.
From the perspective of company, Shenzhen Expressway Co., Fujian Expressway Development Co., Jiangsu Expressway Co., Shanghai International Port Group Co., and Tianjin Port Co., rank the top five places.
Top 10 China Stock Listed Companies in Terms of Investment 2000-1H2008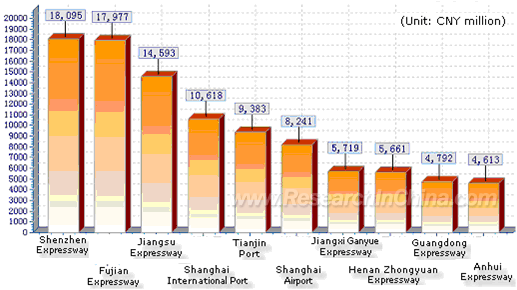 Source: ResearchInChina
The report takes the Shenzhen Airport for example to introduce the investment features of a single company.
Annual Investment of the Company of Shenzhen Airport, 2000-2008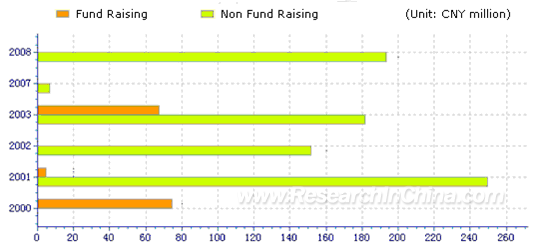 Source: ResearchInChina
Investment Distribution of Shenzhen Airport by Segments, 2000-2008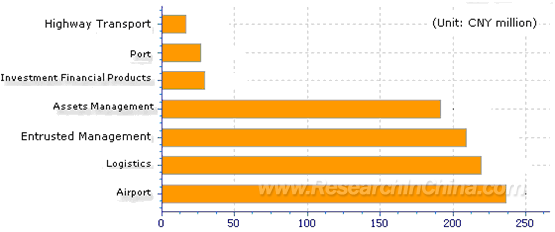 Source: ResearchInChina
Investment characteristics of Shenzhen Airport:
Main business: airport logistics industry; Future development direction: striving to become a regional passenger transport hub and a super cargo gateway in South China by taking Changi Airport in Singapore and Hong Kong Airport as the standard.

Except the period 2005 to 2007, the company maintained a high level of investment in the other years.

Most of its investment is concentrated in South China, followed by Southwest China.
Non-aviation business will be the main source of growth. In 2008, its operation mode of advertising business began shifting to franchise operation from self operation, which has secured considerable earnings from its airport advertising franchise in the forthcoming four years. The company will build its second 4F runway and create a joint venture with Lufthansa Cargo to run international cargo business in the Shenzhen Airport, which will provide convenient conditions for developing its international cargo transport business. What's more, UPS has decided to move its Pan-Asian aviation transfer center based in Philippines to the Shenzhen Airport, which will build the relevant infrastructure to be leased to UPS, according to the agreement.
Note: We can update the statistics to the latest quarter, when you buy the report.