China's city commercial banks, as the last institutions emerging in China's commercial banking system, were founded in 1995 through shareholding reform of the former urban credit cooperatives. They are regarded as "the third echelon" in China's banking system.
In 2007, China accelerated the pace of initial public offerings of its city commercial banks. On July 19th 2007, Bank of Nanjing went public in Shanghai Stock Exchange, becoming the first urban commercial bank stock in Shanghai Stock Exchange. Bank of Nanjing with a registered capital of CNY1.207 billion is the third urban commercial bank that has set up branches in other cities, after the Bank of Beijing and Bank of Shanghai. Besides Bank of Nanjing, Bank of Ningbo also had its IPO on the same day in the Shenzhen Stock Exchange.
Bank of Beijing (601169) had its IPO in the Shanghai Stock Exchange on Sep. 19th 2007. The Bank of Beijing opened at 23 yuan per share in its market debut, up 84% from its IPO prices of 12.5 yuan. The bank issued 1.2 billion A shares in all, among which, 900 million shares were issued on-line. The bank's shares were chased by the market and a total of CNY1.9 trillion was frozen for subscription.
Furthermore, Bank of Hangzhou, Bank of Chongqing, and Bank of Tianjin have all expressed their intention to go public clearly. It is inevitable that more China's urban commercial banks will be listed on the stock market in 2008.
Changes in Total Deposits of China City Commercial Banks, 2002-2007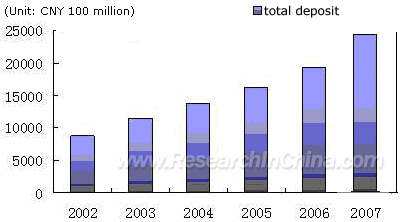 Source: ResearchInChina
China Banking Regulatory Commission requires that domestic city commercial banks should be of a basic rudiment of a modern financial company in 2008. The basic rudiment should cover the following seven aspects: firstly, non-performing loan should remain at about 5%; secondly, capital adequacy ratio should be above 8%; thirdly, NPL provision coverage rate should reach 100%; fourthly, profit should continue to grow; fifthly, all information should be fully disclosed; sixthly, the ability to prevent market risk and operational risk should be further enhanced; seventhly, operation features, operation mechanism, corporate management, corporate culture and quality of employees should also be further improved. All city commercial banks have made great efforts to meet the above requirements and their efforts are finally paid off, according to our in-depth analysis in this report on operation conditions and performance of 75 city commercial banks in China.