Healthy drinking water has become the world's scarce resource. In China, water quality-induced water shortage is serious. With the improvement of people's living standards, sales of drinking water have increased sharply, rising to 18.36 million tons in 2007 from 3.39 million tons in 1999. It is forecast that China's sales of drinking water will exceed 30 million tons in 2010, and China's drinking water market will continue to grow at a rate of over 10% annually in the following five to ten years.
China Drinking Water Output, 2000-2010 (Unit: million tons)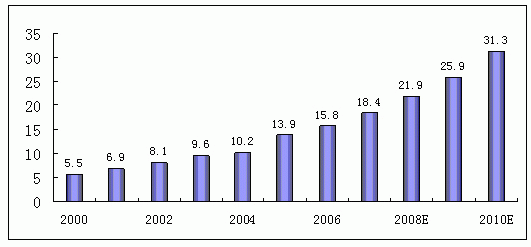 Source: National Bureau of Statistics, ResearchInChina
Drinking water can be divided into several categories, including bottled water, barreled water, mineral water, purified water and distilled water. Barreled water has developed rapidly due to its advantages in purity, hygiene and convenience. In addition, its combination with water dispenser will be the rapidest growth point in the future drinking water industry.
From the perspective of market competition, MasterKong, Nongfu Spring, Wahaha and Robust are the leaders in the sector in China. In recent years, rapid growth of some medium-sized companies, such as Runtian, Maling and C'estbon have also had a fast growth, which deserve some concern. The report focuses on these companies.
Drinking water has very significant geographical features. Some factors like income level, company features and quality of water sources make drinking water in different regions has its own characteristics. Therefore, the report also makes a thorough study on drinking water market in some key regions in China.
In addition, the report makes an in-depth analysis on consumers, marketing strategy and key companies of drinking water sector, as well as associated industries of drinking water market. The report also gives you a full picture of current situation and development trend China's drinking water sector in the coming years.