Since 2005, China's equity investment market has increased rapidly. In 2007, a total of 177 cases by PE were taken place in Mainland China, up 59% year on year, and the total investment scale had reached USD $12.8 billion, up 8.9% year on year.
Number of Investment Cases by Typical PE in china, 2001-2007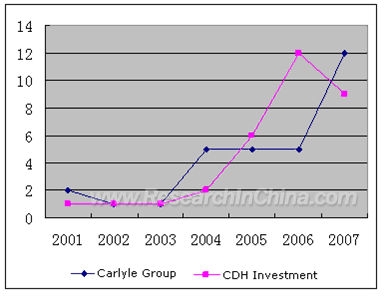 Source: ResearchInChina
In the first half of 2008, investment strategy of growth capital still dominated the market, but its proportion was on the downward trend, however, investment strategy of bridge capital and PIPE increased continually. In 2007 the number of bridge capital cases doubled to 22 from 11 in 2006, and number of PIPE cases rose 15.8% to 22 from 19 in 2006.All of these indicate that China's private equity market tends to be diversified in terms of investment strategies.
Investment of Carlyle Group in China, 2007-2008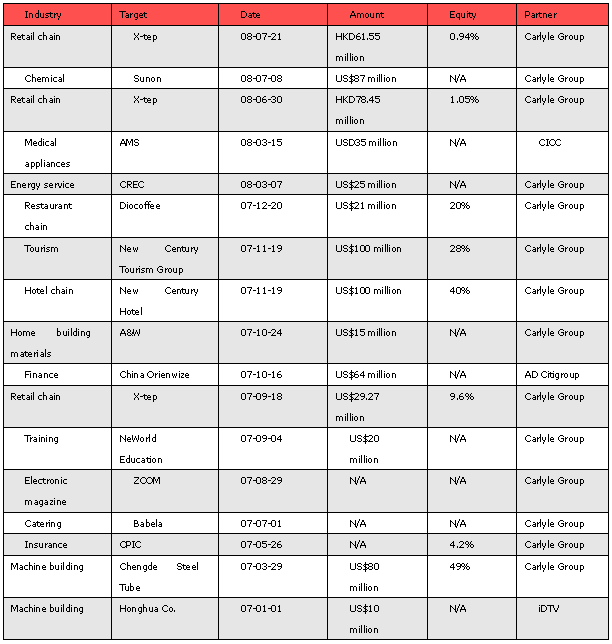 Source: ResearchInChina

This report makes an in-depth analysis on the current situation, policy environment, and 27 equity investors in China, and also makes forecast on the development trend of China equity investment market after 2008 based on a thorough study on the market in the period 2007 to 2008.