China guarantee industry has developed very fast in the past five years. By the end of 2007, China has had a total number of 3,729 guarantee agencies, up 15.5% year on year, while China had 966 guarantee agencies in 2003. By the end of 2007, the total number of client has reached 736,000, up 94.2% year on year, while the figure was only 48,000 in 2003. It is forecast that China's number of guarantee agencies will reach 9,399 in 2010.
In the past several years, growth rate of guarantee agencies invested by government were slower in both client number and capital contribution than those private agencies. When the guarantee industry gets into the right track, government's direct involvement in the guarantee market will be further weakened.

Structure Trend of Capital Contribution from Guarantee agencies,2003-2010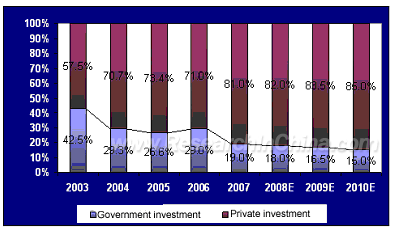 Source: ResearchInChina
Based on the authoritative statistics from the National Bureau of Statistics and the State Information Center, the report makes an in-depth analysis of the current situation and key companies of China's guarantee industry, and also makes forecasts on the development trend of the industry in the period 2008-2010.