Electrical equipment mainly concludes the following three sectors, power transformer equipment sector, power equipment sector and electrical automatic control equipment sector.
Power transformer equipment is mainly used for power grid construction. China's investment in power grid construction reached CNY245.14 billion in 2007, in which the newly-added circuit length of 220 KV and above transmission line was 41,500 km and the capacity of power transformation equipment was 188.48 million KVA. China's investment in power industry totaled CNY131.72 billion in the first four months of 2008, of which CNY55.29 billion were for power grid construction, accounting for 42% of the total.
The growth margin of traditional generating equipment industry will further slow down in the period 2008 to 2010, and the ratio of installed capacity of coal-fired power generating units will drop to about 72% of the national total in the end of 2008. Clean energy equipment like hydropower, wind power and nuclear power is expected to have a good opportunity for development, especially the development of nuclear power and wind power.
It is forecasted that the accumulative installed capacity of nuclear power and wind power will reach 13 million and 9 million kw respectively this year. Meanwhile, the rapid development of new energy will provide a new impetus to the development of power generating equipment industry.
The report makes an in-depth study and analysis on all investment projects financed by 37 listed companies in China's electrical equipment industry from 2000 to 2008, and also makes a summary on investment trend of China's electrical equipment industry and investment characteristics and trend of the companies.
From the perspective of all investment projects released by the listed companies in the period 2001 to 2007, their investment was steady in the period, and then it picked up the pace of growth in 2006 to 2007, jumping to CNY16 billion in 2007 from CNY2 billion posted in 2000.

Annual Investment of China Listed Electrical Equipment Companies 2000-2008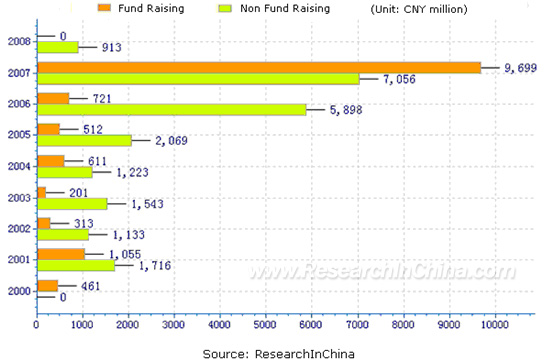 Seen from the investment distribution by region, Sichuan Province and Hebei Province were far ahead of others, and the combined investment exceeded half of the national total.
Investment Distribution of Listed Companies By Region, 2000-1H2008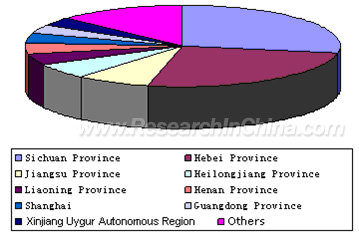 Source: ResearchInChina
The report makes an in-depth analysis on the 37 listed companies, like Baoding Tianwei Baobian Electric Co., Ltd, which has mainly invested in new energy, like solar energy and wind energy, in recent years. Seen from the investment statistics in the past seven years, its projects were financed mainly by non fund raising and its investment rose sharply in 2006 and 2007, while that in the other years was relatively small, particularly in 2003. Its investment is scattered, mainly in North China, while other regions like Southwest, East China, and Northwest have also its investment.

Annual Investment of Tianwei Baodian, 2000-2008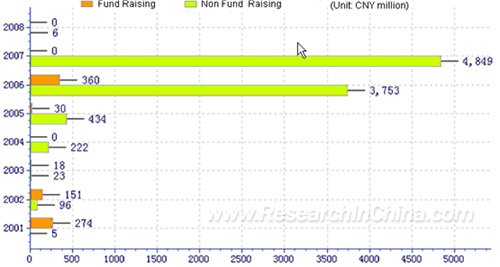 Source: ResearchInChina
Investment Distribution of Tianwei Baobian by Segments, 2000-2008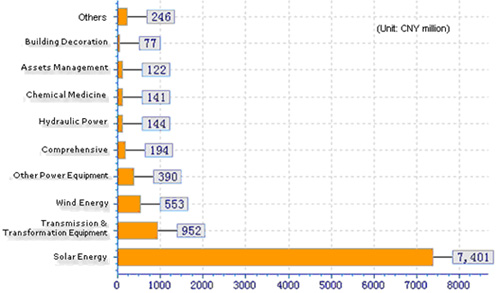 Source: ResearchInChina
Notes:
We have a collection of more than 35,000 pieces of information, released by 1,500 Chinese listed companied, on investment projects financed by fund raising and non fund raising since 2000. After the information is processed by software and studied by analysts, the investment direction report concerning various industries is completed, which is classified by time, region (province, autonomous region and municipality), by purpose and by sector.
We can update the data in the report to the most recent quarter, when the report is purchased.