As a kind of general machinery, gas compressor is widely used in such industries as petrochemical, steel, metallurgy and automobile. Gas compressor is mainly divided into several types, including centrifugal gas compressor, reciprocating gas compressor, and piston gas compressor.
China gas compressor manufacturing industry has developed rapidly in recent years. In 2007, China had a total number of 355 companies above designated size (with an annual sales revenue exceeding CNY5 million) in gas compressor manufacturing industry and their combined output value reached CNY56.93 billion, amounting to 0.78 of the total output value of the entire machinery industry, the percentage of which was 0.03 percentage points higher than the previous year. Moreover, China had also increases in other indicators like output value of new products, industrial sales output value and export delivery value.
Ratio of Total Output Value of Gas Compressor Manufacturing Industry to the Total Output Value of the Whole Machinery Industry, 2006-2007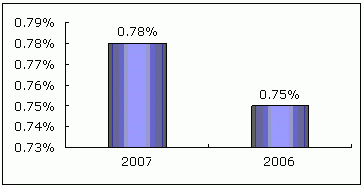 Source: ResearchInChina
At present, China has a relatively fierce competition and relatively low industry concentration in its gas compressor manufacturing industry. China's gas compressor producers are mainly distributed along the eastern coastal regions, while China has fewer companies located in its west region (including Southwest and Northwest), where there exist huge market potentials to be further developed.
During the Eleventh Five-Year Plan period (2006-2010), the localization of large complete set of equipment in such industries as petrochemical, chemical, textile, coal/electricity/oil and metallurgy will provide huge business opportunity for the development of China's gas compressor manufacturing industry. According to the plan, China will build a great deal of important projects in key industries in the period 2006-2010. China's nuclear power industry, for instance, will build more than 20 nuclear power stations in the five years, which will not only provide a broad market for the rapid development of gas compressor manufacturing industry, but also provide an unprecedented opportunity to accelerate the improvement of air compressor quality and surpass the world level.
The report is based on the authoritative statistics from the National Bureau of Statistics, the General Administration of Customs, and the National Development and Reform Commission, as well as the data from China's industry organizations and associations. The report makes an in-depth analysis on the production, sales, market condition, industry structure, product, import & export of China's gas compressor manufacturing industry and also makes forecasts on the development of China's gas compressor manufacturing industry based on the development trend of relevant industries and prediction of China's economic development in 2008.