China's port cargo throughput has continued to grow rapidly in recent years. In 2007, China's port cargo throughput rose to 6.41 billion tons from 2.21 billion tons in 2000 and the CAGR (compound annual growth rate) was 16.4% in the period 2000 to 2007. China's port cargo throughput in 2007 increased 15.1% against the year of 2006.
China's economic growth will continue to slow down, due to inflationary pressure and a slowdown of real estate investment. In addition, China's strong export growth will also decelerate, due to impact of sluggish demand in the United States of America and Europe as well as RMB appreciation. China's port industry is closely associated with its national economy and import & export, so the industry will see its growth of cargo throughput decelerate. However, it will maintain the momentum of a relatively fast growth.
Cargo Throughput and Growth Rates of China Ports, 2000-2007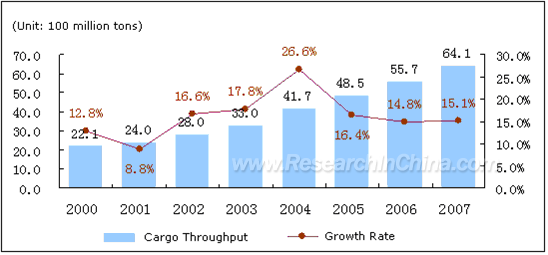 Source: Ministry of Transport

Based on the authoritative statistics from the Ministry of Transport, the National Bureau of Statistics and the China Federation of Logistics & Purchasing, and the financial statements of some key companies, this report makes a thorough study on the current situation of China port industry, makes a forecast on the development trend of the industry, and makes an in-depth analysis on the investment opportunities and risks.