China ranks the ninth place in the world's pharmaceutical market in terms of market size. It is forecast that China's pharmaceutical market will continue to maintain a double-digit growth in the next few years and will jump to the sixth place by 2011.
At present, China's pharmaceutical logistics industry is featured as small-scale, scattered investment and fierce competition. China's pharmaceutical logistics industry is mainly composed of pharmaceutical manufacturers and pharmaceutical distributors. China has 16,500 wholesalers, 120,000 retailers and more than 6,300 producers. In terms of sales, China's top three companies: Sinopharm Group, Shanghai Pharmaceutical Co. and Jiuzhoutong Group Corp., are all shared less than 5% of the national market.
Since 2002, China's pharmaceutical logistics industry has been expanding constantly. A great amount of capital is being poured into the industry. In 2007, China had three pharmaceutical logistics centers put into operation, namely, Jiangsu Yabang Medicine Logistics Center, Quanzhou Medicine & Food Logistics Port and Chongqing Medicine Heping Logistics Center.
Regional Distribution of China Key Pharmaceutical Logistics Centers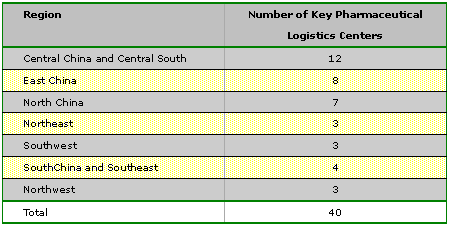 Source: ResearchInChina

Large pharmaceutical logistics projects that initiated the construction in 2007 include the China-ASEAN (Tongji) Medicine Logistics Center invested by Guangxi Tongji Medicine Group with CNY145 million, the Nantong Suzhong Pharmaceutical Logistics Center with a total investment of CNY280 million, and the Chongqing Modern Medicine Logistics Center Project jointly invested by Shenzhen Neptunus Bioengineering Co., Jinguan Group and Chongqing Huabo Medicine Co.
In view of the features of China's pharmaceutical logistics industry, China needs urgently to create a group of large trans-region, trans-industry and trans-ownership Pharmaceutical logistics conglomerates through restructuring the industry and forming an alliance. As for the construction of logistics centers, it is better to build them jointly. In this way, it will help carry out management on the entire logistics operation to speed up the flow of drugs, improve circulation efficiency and reduce logistics cost.
Based on the statistics from the China Association of Pharmaceutical Commerce and China's Medicine and Healthcare Product Import and Export Association, the report makes a thorough study on the dynamics of international and domestic pharmaceutical market and logistics industry, and makes an in-depth analysis on the operation pattern, operation strategy, market environment and relevant risk of China's pharmaceutical logistics industry. In addition, it also introduces the key companies and the latest projects of the industry, and analyzes the typical cases.