Steel sheet is known as an import product in steel industry. China has a serious short supply of electrical steel as well as such sheets as hot-rolled, cold-rolled, galvanized and color-coated, and their market shares of China locally produced products are not high. Therefore, it has naturally become the choice of most of steel producers to invest in projects to produce such steel products. Some steel giants are investing heavily in steel sheet capacity expansion projects to expand their production scale, improve their product lines and upgrade the quality of varieties.

Accumulative Output Growth of Some Steel Sheet Downstream Products, Jan.-Nov., 2007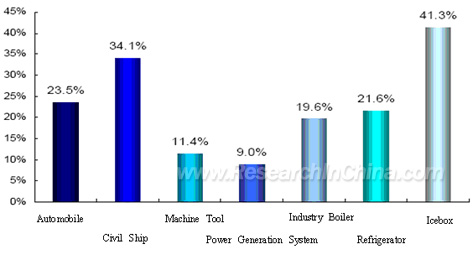 Source: ResearchInChina

Steel products used in the production of automobiles, machinery, household applications and consumer electronics are mostly sheets. As the above-mentioned industries are developing rapidly, China still has a short supply of steel sheet at home.
The report is based on the authoritative statistics from the National Bureau of Statistics, the General Administration of Customs, State Information Center, China Iron & Steel Association and some regional steel sheet associations.