By the end of November of 2007, total assets of China's ceramic industry have reached CNY63.82 billion, up 10.98% year on year. In particular, those of small companies have reached CNY32.1 billion, accounting for 50% of the industry total, while those of the large companies amounted to only 10% of the total, indicating that in 2007, China's ceramic industry had a rapid growth, but the concentration degree in the industry was still low.
Asset Proportions of Large, Medium & Small Sized Ceramic Companies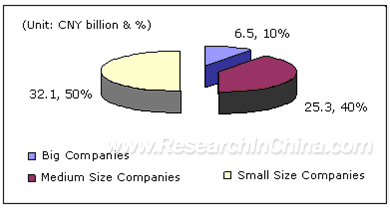 Source: National Bureau of Statistics of China
In China, ceramic industry is classified into the following five categories, building ceramic, daily ceramic, ceramic sanitary ware, special ceramic and other ceramics. In 2007, sales revenue of daily ceramic category reached CNY34.2 billion, up 27.13% compared to the previous year and that of ceramic sanitary ware category was CNY20.2 billion, up 29.5% year on year.
Based on the authoritative data from the National Bureau of Statistics of China, China Ceramic Industrial Association, China Building Ceramics & Sanitaryware Association, China Ceramic (www.ctaoci.com) and Shandong Ceramics Association, the report makes a thorough study on China's ceramic manufacturing industry, ceramic related industries, segmented market of ceramics and the key companies.
Changes in Sales Revenue of Daily Ceramic , 2006-2010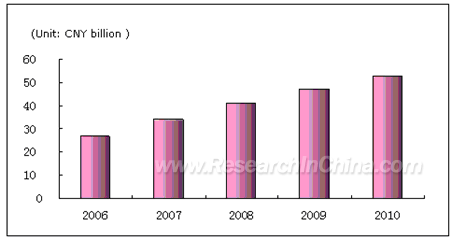 Source: ResearchInChina