Organic silicon material is new chemical materials with unique features and outstanding performance, featured by high/low temperature resistance, aging resistance, chemical resistance, insulation and noncombustible. Organic silicon material is widely used and its application in military industry is irreplaceable. Organic silicon is honored as "industry MSG". Rapid growth in demand for organic silicon in Asia (except Japan), and especially in China has lured global organic silicon giants into Asian market, who have built organic silicon plants in Asia or have plans to do so, mainly aiming at Chinese market.
Since early 2008, international organic silicon prices have increased continuously. Global production capacity organic silicon will continue to grow at a rate of around 6% in the future. It is forecast that China's production capacity will maintain a growth rate of about 20%. In 2007, China had a shortage of 410,000 tons of organic silicon monomer, and China's self-supply rate was around 46 percent in the year. Given construction period of a silicon monomer project normally lasts at least one and a half year, China's newly-added supply of organic silicon monomer will not be able to meet its newly-added demand in the year.

China Organic Silicon Monomer Production Capacity Forecast, 2008-2010
(Unit:10, 000 tons)


Source: ResearchInChina
Considering the downstream market, China still doesn't have companies with outstanding performance in scale, R&D and market exploitation. Most companies mainly develop products by cooperation with research institutes, colleges and universities. Especially in the high-tech application fields, local companies have to import products, which have continuously built up profits for overseas producers. Dow Corning, is a good example as following.

Net Income of Dow Corning, 2003-2007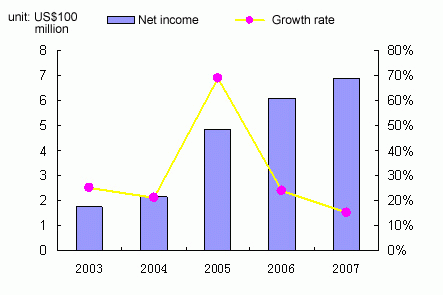 Source: ResearchInChina
Based on the information sourced from Puword, Cn-silicon and Chinaccm, this report makes an in-depth analysis on industry concentration and current situation of global organic silicon industry, and also makes a thorough study on current situation and investment opportunities of China organic silicon industry.